Century Hospitality specializes in hospitality development and management.  Our current portfolio includes 11 open hotels in Ohio, West Virginia, and Pennsylvania.  Century Hospitality is an affiliate of The Century Group.
The Century Group, founded as Century Equities, Inc. in 1984, is comprised of 3 affiliate companies: Century Equities, Century Hospitality, and Century Realty.  Collectively, these companies are active in investment real estate, hospitality, and commercial real estate brokerage.  The Century Group has offices in both downtown Pittsburgh, Pennsylvania and Wheeling, West Virginia.
NEWS
City of Hurricane, WV Comes Together
Over the past few weeks, our Wingate by Wyndham Hurricane, WV hotel has had the pleasure of housing American Electric Power. They helped restore over 97,000 Appalachian Power customers electricity in the area. These guys worked tirelessly in the frigid cold to help our community. Our Wingate team was so happy to make the hotel their home away from home. They wrote this thoughtful article on us: Read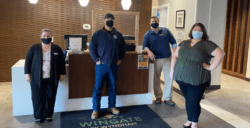 Giving back this holiday season.
This year has been called many things, and few are very positive. Many children and families this year are suffering from lack of access to medical care, food, lost job wages, and more thanks to the coronavirus pandemic. Which is why this year, more than ever, it is important to give back. Even though it has been a difficult year due to COVID-19, Century Hospitality wanted to ensure kids are still having a wonderful Christmas with donations from our company.