WHAT WE DO
Century Hospitality specializes in hospitality development and management.  Our current portfolio includes 7 open hotels in Ohio, West Virginia, and Pennsylvania.
Century Hospitality is an affiliate of The Century Group.

The Century Group, founded as Century Equities, Inc. in 1984, is comprised of 3 affiliate companies: Century Equities, Century Hospitality, and Century Realty.  Collectively, these companies are active in investment real estate, hospitality, and commercial real estate brokerage.  The Century Group has offices in both downtown Pittsburgh, Pennsylvania, and Wheeling, West Virginia.

WHAT WE'RE UP TO

Wyndham Global Conference 2023
We work hard as a team and we have fun as a team!
Our group traveled to Anaheim, CA this year for the Wyndham Global Conference. They had a great time together learning how to better their already outstanding service.

Century Company Picnic 2023
Friends. Family. Fun.
After a long 4 year break due to COVID, we were finally able to enjoy a company picnic again. With a year full of awards and one very beloved employee retiring at the end of September, we had much to celebrate!
RECENT ACCOLADES
2023 City Paper "Best of PGH"
TRYP by Wyndham Pittsburgh / Lawrenceville wins two 2nd place "Best of PGH" awards
TRYP's rooftop bar "Over Eden" was nominated by the public for "Best Rooftop Bar" as well as "Best Hotel Bar," and took home 2nd place for both categories.
2023 Business Of The Year
St. Clairsville Chamber of Commerce Awards Century Hospitality Business Of The Year!
A message from our owner, Danny Aderholt: "After college, my wife and I moved to St. Clairsville. I love this community and have made many great friends here. Our hotels are locally owned and operated and have won multiple national awards for their quality and guest satisfaction. We will continue to provide this level of service to this very special community. Thank you for this wonderful recognition."
2023 Wyndham Global Conference Awards
We are proud to announce that three of our GMs were recognized at this years conference. 
Congratulations to Len Dunlap at our Microtel New Martinsville for winning the award of GM of the Year!
Congratulations to Kevin Aldana & Jennifer Haywood for being recognized on the list of "Top 10 Preforming Wyndham Properties"
This includes all three of our Hawthorn properties in Bridgeport, WV, Wheeling, WV, & Saintclairsville, OH.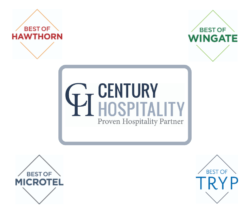 2022 Best of The Best Awards
All 7 Century properties maintain their spot on the list of Wyndhams Best of The Best Hotels
"Best of The Best" award winners. The "Best of" awards are presented annually to an elite group of hotels that are evaluated on specific criteria including hotel quality, guest feedback, and Wyndham Rewards compliance including Wyndham Rewards Enrollments.
A huge congratulations to every member of our team who goes above and beyond to provide the best stay possible. Congratulations: Hawthorn Highlands, Hawthorn St. Clairsville, Hawthorn Bridgeport, TRYP Pittsburgh/Lawrenceville, Microtel New Martinsville, Wingate St. Clairsville, Wingate Hurricane
2022 Wingate by Wyndham Hurricane, WV
J.D. Power North America Hotel Guest Satisfaction Index Study – Highest guest-satisfaction rating in the midscale hotel segment.
This marks the seventh time Wingate has earned the top midscale spot! Determined by hotel travelers, the J.D. Power Survey measures key experience factors on a 1,000 point scale. Wingate scored a total of 849 index points – 40 index points above the segment average.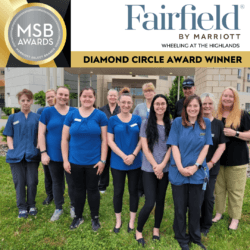 2022 Fairfield by Marriott Wheeling at the Highlands
Fairfield takes home the Diamond Circle Award
We are so proud to announce that our Fairfield at the Highlands is a Diamond Circle Award winner for 2022! The Diamond Circle Award is the highest award circle a hotel can achieve. The criteria is to be in the top 3% of the entire brand of 1,108 properties at the end of 2021. This is based on guest feedback on overall satisfaction and intent to recommend. We could not be more proud of the entire team at the Fairfield for this achievement and recognition!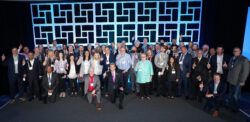 2022 Century Hospitality
Wyndham Executive Summit
Century Hospitality attended the Wyndham Executive Summit in Orlando Florida to represent our 9 award winning properties. We were delighted to be able to network, visit with Wyndham partners, and celebrate our teams' incredible work! We are so appreciative of this opportunity to gather in person again and celebrate our accomplishments together.
OTHER NEWS
Giving Back During The Holidays 2023
During the holiday season, the spirit of giving back becomes especially important. It is a time when individuals and communities come together to share kindness and generosity with those less fortunate. We are so grateful to be able to come together as a company and donate to the Salvation Army's Angel Tree program every year!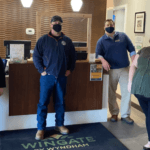 The City of Hurricane Comes Together
Over the past few weeks, our Wingate by Wyndham Hurricane, WV hotel has had the pleasure of housing American Electric Power. They helped restore over 97,000 Appalachian Power customers' electricity in the area. These guys worked tirelessly in the frigid cold to help our community. Our Wingate team was so happy to make the hotel their home away from home. They wrote this thoughtful article on us: Read